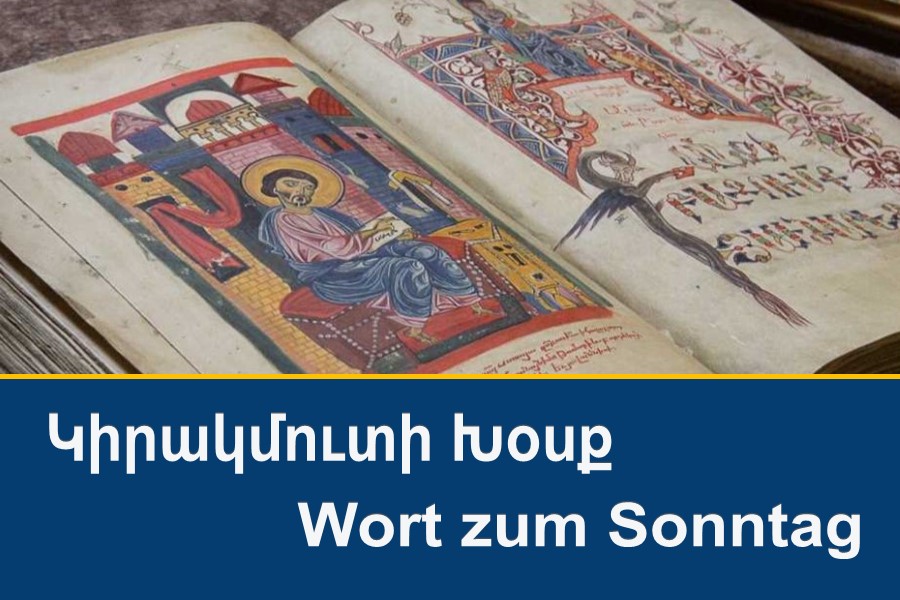 "I am the living bread that came down from heaven." John 6:51
Today's reading from the Gospel of Matthew 14:13-21 and also in other comparable passages in the gospels tell us about the miracle of the multiplication of the loaves. When the people found Jesus on the other side of the lake, they asked Him, "Rabbi, when did you come here?" Jesus answered them and said, "You are not looking for me because you have seen signs, but because you have eaten of the loaves and have had enough." (John 6:26)
Here, dear ones, those gathered did not follow Jesus because of their belief in His teachings, but they sought Him to satisfy their bodily needs. That is why our Lord and Savior Jesus Christ says, "Go, work, and do no work, whereby you will perish." That is, whoever thinks evil and commits evil deeds condemns himself to oblivion and death. Christ, knowing their destructive minds and heart's desires, commanded: "Do not labor for the food that perishes, but for the food that remains for everlasting life." John 6:27. And as true bread He gives us His body, and instead of eternal water He gives us His blood. How wonderful would it have been if a king had sent part of his food to a poor man? But Jesus feeds us, not by sending us a portion of His sacrament at the Holy Table, or a small portion of His body and blood, but He gives us His whole body, blood, spirit and divinity.
Our Redeemer demonstrated His love not only through His incarnation, but He gave us His whole body and blood, and through that He wanted to be united with each one of us. This is why He mingled with us so that we could become one, because He loved us perfectly and said, "I am the bread of life, and whoever comes to me will never hunger again; and whoever believes in me will never be thirsty again."John 6:35
Christ breaks His bread for many people throughout the centuries․ The bread was broken for our fathers and for us, but the supply is not yet exhausted. The spiritual content of our Savior Jesus Christ is inexhaustible. He lived forever. If we had thought that we had a perfect understanding of the Lord and that there were no more mysteries in Him, His remnants would still exist, feeding mankind for centuries.
According to the word of the Lord, rivers of living water will flow out of their bellies. Do not let those who are hungry despair, for the Lord's message is clear: "I am the living bread which came down from heaven. Whoever eats of this bread will live forever." John 6:51
If anyone is found guilty of sin, the Lord will cleanse and sanctify them with His body and blood and make us true and chosen children of God.
May we live in divine love and peace forever. Amen.
Yeghishe Vartabed Avetisyan