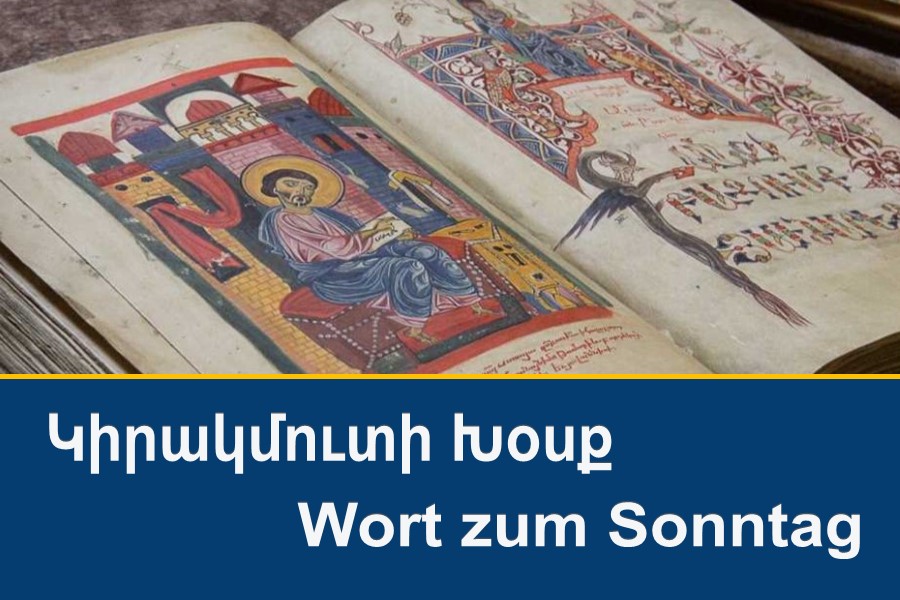 Our Church Fathers very often speak of human intelligence as one of the gifts that distinguishes man from other creatures. Intelligence, from the Latin intellegere means "to recognize", "to see", "to understand". The importance of this cognitive or spiritual capacity was also recognized in the 5th century by the Holy Translators, whom we commemorated yesterday, October 9th. St. Mesrop Mashtoz, St. Katholikos Sahak Partev and a host of their comrades-in-arms not only translated the Bible from Hebrew and Aramaic sources into Armenian, but also many things by the Church Fathers, philosophers or scientists. You saw it as your mission to spread the light of knowledge and understanding among the Armenians through education. The first sentence translated into Armenian using the Armenian letters was from the book of Proverbs of Solomon: "To know wisdom and discipline, to understand wise speech" (Proverbs 1, 2).
The 5th century is considered the golden age of Armenian literature. What the Holy Translators did was so exemplary that later the Caucasus Albanians, the Georgians, the Slavic peoples, but also Germans were inspired by it. The movement that developed after the discovery of the Armenian script soon bore fruit. In addition to the translations, schools were founded in towns and villages wherever there were priests, small children were allowed to learn to read and write, church services and rides were held created in Armenian language and much more. All of this helped to preserve our identity even in dark times when we lost our statehood. But even today, distributed around the world, after the genocide of 1915, it is our faith and our language, but also our striving for the truth, what unites us and welds us together.
Even today we are united, more than ever. Our neighboring country wants to free Artsakh from Armenians and days ago, together with the country that massacred us a hundred years ago, started the war. Even if the world community tirelessly repeats that the conflict in Artsakh cannot be solved militarily, our neighboring country does not want to understand it. What's more, it bombs Artsakh's villages and towns, humanitarian facilities such as hospitals, schools and churches. All that remains for us as Christians is to pray that our neighbors will come to their senses and sit down at the negotiating table. Until then, we must defend ourselves, our homeland and our people's right to life, because we will no longer allow a second genocide. I very much hope that the world community will recognize this and work for peace and the right to life of the people in Artsakh.
Rev. Dr. Diradur Sardaryan