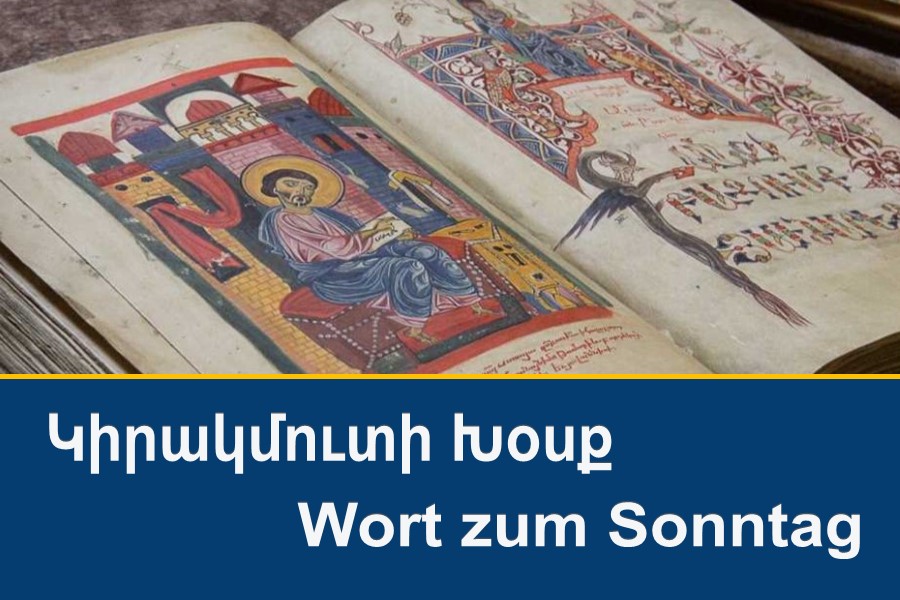 ---
In the name of the Father, the Son and the Holy Spirit, amen.
No one has ever ascended into heaven except the Son of Man, who came down from heaven to earth. And as Moses set up the bronze serpent on a stake in the desert, so the Son of Man must also be set up on a stake, so that everyone who believes may have eternal life. John 3.13֊15
Today the Armenian Apostolic Holy Church celebrates the Feast of the Exaltation of the Cross, the fifth and final Solemnity. The Lord's Cross was captured by the Persian king Khosrov. The return of the cross became the reason for founding the Feast of the Cross. Along the way the cross was lifted up for the worship of believers, just as the cross of the Lord was lifted up at Calvary, which became the cause of the salvation of us all.
The Christian Church has given great importance to the cross. As the apostle Paul said in Galatians.
But far be it from me to boast except in the cross of our Lord Jesus Christ, through whom the world was crucified to me, and I to the world. Galatians 6.14
The cross reminds us of Jesus' way of the cross, his death on the cross, his glorious resurrection. As Christians we carry the cross in our hearts, we were baptized as Christians with the sign of the cross, we were born with the cross, we leave this world with the cross, we direct our eyes to His cross, from which we expect our salvation.
But it is very important to have true faith in the Holy Cross և Its meaning. We believe in the cross and we worship the cross only through the crucified one, we worship not its material but its content. Just as the cross of the Lord Jesus Christ was an instrument of death to punish serious criminals, so the cross took on new meaning through the blood of Jesus. It became an instrument of hope and salvation.
In 1 Corinthians 18 says Apostle Paul: For the word of the cross is foolishness to those who are perishing; but to us who are being saved it is the power of God.
Now let's look at the crucified Christ today, pray, hope in the great power of the cross and believe in Jesus Christ, who sacrificed his life for us on the cross. Let's make the cross for ourselves as the power of God.
And may the Lord bless us all with the sign of the Holy Cross. Amen.
Pastor Aygik Hovhannisyan